Research has found that businesses with an emphasis on sustainability see a positive return not just in customers' perceptions, but in financial terms.
A Nielsen study of consumer attitudes across 60 countries found that 55% would pay a premium for products and services offered by eco-friendly and socially responsible companies.
Modern restrooms are considered sustainably designed when they use durable materials that will not need frequent replacement, are recyclable/recycled, and have a low environmental impact. Many options exist for fixtures that reduce water consumption and energy use and also often contribute to green building programs such as LEED.
Sinks & Countertops: Sustainability Benefits
Sinks and countertops meeting a modern minimalist design aesthetic are made of sleek and elegant materials such as stainless steel, cast resin, and solid surface.
Not only is stainless steel a durable, impact-resistant, resilient, and long-lasting material, it is also 100% recyclable. Recycled steel makes up about 60% of any stainless steel object, and some manufacturers use up to 80% recycled steel in their basins and countertops.
Stainless steel is extremely strong; look for 16- or 14-gauge stainless for the strength needed to last in a commercial or hospitality restroom installation. With correct cleaning and maintenance, stainless steel sinks and countertops will last for years.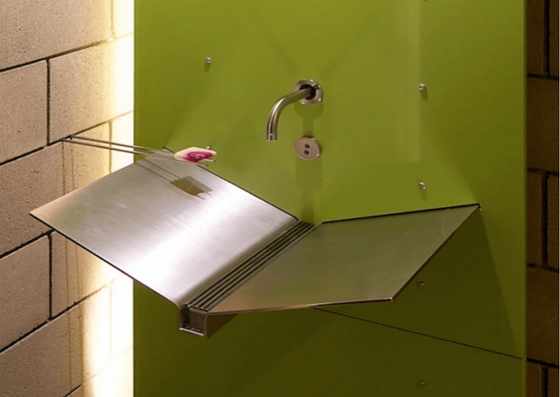 This book sink was customized for the San Diego Public Library.
Solid surface is eco-friendly and uses a minimum of 15% post-consumer recycled material that would otherwise have ended up in a landfill, as well as a minimum of 5% rapidly renewable material derived from bio-based sources such as soy and corn crops.
Solid surface material is resistant to chips, cracks, impact, scratches, heat, chemicals, and stains, and is Class A fire rated. It is durable and can be quickly repaired or refinished. Cigarette burns, permanent marker, and minor scratches can be removed with a sander or a non-scratch scouring pad.
139″L custom Slab™ with three integral sinks (Manchester Theatre, Los Angeles)
Unsaturated acrylic and polyester resin is a durable material that can be cast into any size or shape in molds, allowing highly customizable and unique pieces.
Resin countertops are in wide use in laboratories because of their resistance to stains, impact, scratches, and heat, so they are well suited for the high-traffic public restroom environment. If needed, the surface can be refinished instead of replacing the entire unit.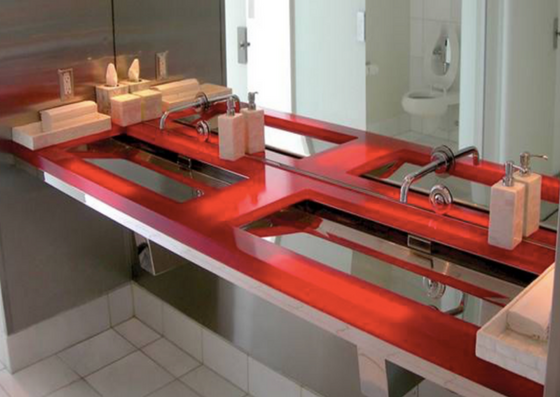 96″L wall-mounted cast resin countertop with two 36″ EBB® stainless steel sinks (The Gaylord Hotel, Washington, D.C.)
Toilets & Urinals: Sustainability Benefits
Corrosion-resistant recycled and recyclable stainless steel is a durable choice for toilets and urinals. Look for welded pieces that maintain their integrity and strength in high-traffic areas, and contain 80% recycled content.
The federal water use standard for toilets is 1.6 gallons per flush (gpf), and for urinals, 1.0. High-efficiency toilets with the WaterSense® label use only 1.28 gpf; high-efficiency urinals must use no more than 0.5 gpf.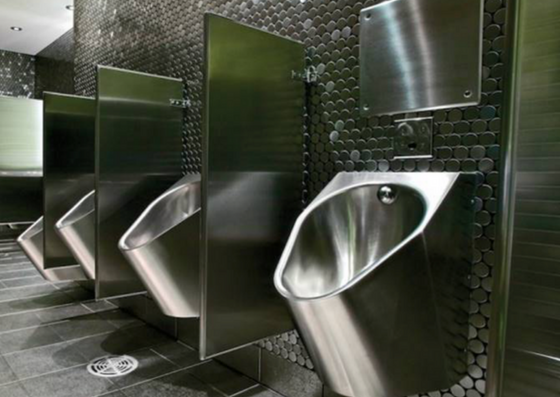 High-efficiency toilets and urinals can contribute points to the Water Efficiency (WE) category in LEED v4. (Ghost Bar at The W Hotel, Dallas)
Faucets & Hand Dryers: Sustainability Benefits
Environmentally friendly faucets and hand dryers emphasize a commitment to sustainability through water- and energy-saving features. The Energy Policy Act of 1992 set the private lavatory faucet federal standard for water volume at 2.2 gallons per minute (gpm) and the public faucet federal standard at 0.5 gpm. Private fixtures are those in residences, hotel guest rooms, and private hospital rooms. All other applications are public.
WaterSense, a partnership program by the U.S. Environmental Protection Agency, seeks to protect the future of the nation's water supply by labeling products and services that have been certified to be at least 20% more efficient without sacrificing performance. WaterSense-labeled bathroom faucets (for private use, which includes hotel bathrooms) use a maximum of 1.5 gpm. Public lavatory faucets are not labeled by WaterSense, but a multi-spray laminar aerator reduces the water volume from the federal standard of 0.5 to 0.35 gpm.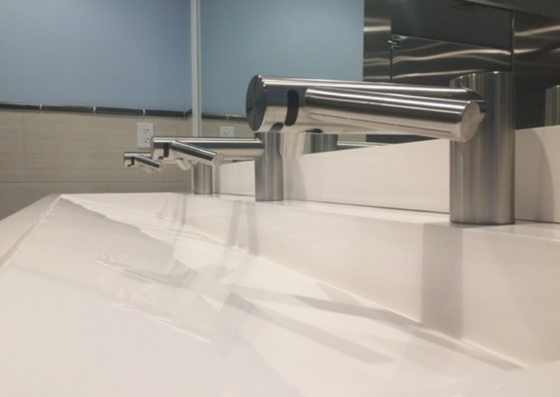 Neo-Metro basin featuring the Dyson Airblade Wash+Dry. Hold your hands under the center of the tap to wash, then raise your hands directly under the tap arms to dry your hands in just 14 seconds all without having to turn a knob or push a button.
Show your employees, customers, and guests that you care about the environment as much as you care about their comfort and experience, by choosing design friendly and sustainable products.
For more information about Neo-Metro and our commercial plumbing products, please contact us.